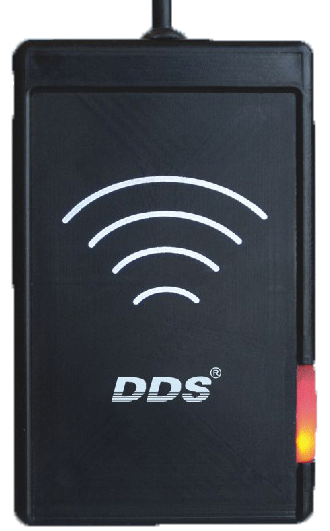 RFID HF Reader is desktop read write device for PC, These contact less smart reader writer is based on 13.56 MHZ contact less technology. Compliant with ISO/IEC 18092 standard for Near Field Communication (NFC), supports Mifare family, ISO 14440A cards and NFC tags. HF reader is read/ write desktop plug and play USB device and allows operation with different applications. With access speed of up to 424 kbps and a full USB speed of up to 12 Mbps. DDS HF desktop reader writer can read and write quickly and efficiently. The proximity operating distance is up to 4 cms. depending on the type of contact less tag in use. It is compliant with Lib NFC. The reader writer is available in a module form permitting easy integration into bigger machines such as POS terminal, physical access system, vending machines and water ATMs. DDS RFID desktop reader writer is ideal for both secure personal identification and online payment transactions. Other applications of DDS desktop reader writer include access control, e payment, e ticketing, retail shops, club houses, road toll collection and network authentications, attendance monitoring in organizations, schools, colleges, classrooms and many more RFID contact less applicati
RFID HF Dongle for Android Phone
CRD-120642M is USB RFID/ NFC dongle for Android phone and Tabs. It can read and write to all HF 13.56 Mhz transponders like Mifare and NFC cards/ Tags.
The reader writer has USB interface and is powered from USB. So No charging, No pairing, instant connection to your Android phone or Tab.
Just plug in the dongle to any Android phone/ Tab with Android Ver 5.0 and above. Read/ write to any Mifare or NFC cards/ Tags.
Jump start your mobile payment, Club house, Toll or any RFID/NFC application with cost effective, simple, flexible USB dongle from DDS.
The Dongle is available either with micro USB for direct plugging to Android phone or with OTG cable. 
To permanently attach the Dongle to phone/ Tab  just stick it with double sided 3M adhesive tape on rear of phone/ Tab and connect to  OTG.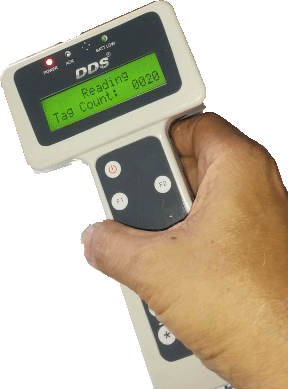 Hand held HF reader is a simple, versatile, with built in Keypad, 16 x 2 display, visual and audio indications for user interaction. Its USB/ GPRS interface makes the reader completely IoT ready.  It is suitable for reading/ writing to  Mifare/ NFC tags.  
Applications
Inventory, Tracking – Assets, Trolleys, Locating Dies/ Molds in Industries, Monitoring –  Guards/ employees, Event management, attendance/ presence monitoring – Classroom, sports, club house, swimming pool,  etc.