DDS RFID readers range contains all the building blocks for creating an effective RFID solution for your specific RFID automation needs.
As system integrator and manufacturer of DDS RFID readers, we design, develop and integrate the most suitable RFID reader & components for your RFID project. In addition to our in-depth knowledge of RFID reader & hardware (patented wave antennas, portals and tags), we offer or custom develop middleware, interfaces and applications in-house.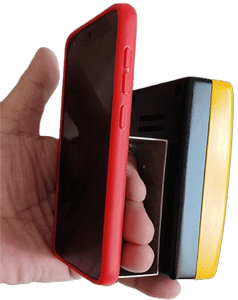 RFID Sled Bluetooth Readers
DDS Bluetooth Wearable RFID Reader is small, compact, light weight, high performance data collection device.
It reads and write to EPC Class 1 Gen 2 ISO18000-6C UHF transponders (cards, inlays and metal mount tags). It communicates with Android smart phone via Bluetooth wireless technology. The RFID reader hardware is optimized for low power consumption whilst still providing excellent performance in a small and convenient form factor. This Sled reader comes with built in battery and charger similar to mobile charger. NO NEED OF external Docking Station for charging.
Mobile App for Tracking, Inventory is down loaded. For system integrators Free Android SDK is available.