Guard Tour Monitoring System
Guard Tour Monitoring System ?
Guard tour monitoring system/ Patrolling is a paper less recording and reporting system. A simple system to record presence of person at predefined location.  System is made of portable device called RFID reader and location tags called tour stations. These are are fixed at locations where guard visits when on patrol. On reaching the location, guard takes the portable reader in vicinity of location tag. This records the guard's presence with date and time. Security guard also records any abnormity in the portable device. The data is either stored in memory of the reader or is transmitted to the server. This is also known as patrolling. It is also able to monitor facility management, water/ electricity meter reading and all kins of patrolling activity.

Guard Tour Monitoring System  consists of:
Reader – Guard carries reader when when on Patrolling Duty 
Tour Stations – Yellow Tags are fixed to trees, wall etc to identify a location or 'Check Points' where guard visits for inspection. Number of tour stations required depends on the area to be monitored. 
Guard ID Card– These are assigned to each guard to identify guard on tour/ patrol. 
USB cable– For transferring data from Reader to PC 
Charger– For battery charging 
Software CD– Desktop software for generating report
Holster – Carry case for Reader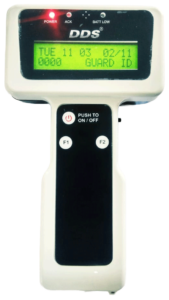 GTMS IoT enabled reader  is for monitoring multiple sites. The data is stored in DDS cloud software. A SIM card is required. All users access reports from PC/ Laptop/ mobile after login with secured username and password. GTMS reader with GPRS is needed to transfer data to cloud.
The 2 Button GTMS reader is cost effective monitoring solution for small, single site security guard tour monitoring and EVENT reporting system. The software is installed on desktop and data is transferred to PC manually by connecting the 2 Button GTMS reader to USB port of PC.